BETAFPV Meteor65 Black Friday Special Edition 1S Brushless Quad Kit - FrSky Receiver protocol
FrSky Receiver protocol version
Special Edition Meteor Kit - The most affordable Betafpv brushless drone kit ever.
The BF SE comes with lots of extra goodies compared to the regular Meteor65 package. In addition to the all-black color scheme, you get 2 lipo batteries instead of 1, the new BT2.0 charger, EVA storage case, and a 200mm landing pad. An amazing deal that won't come back after Black Friday!
The Meteor65, a perfect 1S whoop drone for indoor flying (especially during winter). It is equipped with the new BT2.0 connector, single-board F4 1S FC, and 0802 22000KV motors! With a stronger and powerful system, you'll immediately notice how much better this 1S 22.84g whoop is on takeoff.
Compared to older 1S whoops, you'll be amazed at the control and power of the Meteor65.
Features
Meteor65 is the first generation whoop drone powered by brand-new solid pins BT2.0 1S battery. BT2.0 solid pins connector effectively decreases internal resistance of connector for much better discharge performs compare to initial PH2.0 connector.
Flight controller pre-soldered the BT2.0 solid pin cable, which can provide a more stable and powerful 9A continuous current and 10A burst.
For minimizing weight and optimal performance, it applies the perfect lightest combo with F4 1S FC V2.1(2.6g) and M01 AIO camera VTX(3g).
By using the latest 0802 22000KV motors and 31mm 3-blade props, this kit provides you a completely different experience of powerful indoor flight. 0802 22000KV motors are features of ball bearing and lead wires soldered to PCB to allow you to repair it easier once disconnection.
Meteor65 frame is reduced 0.75g to 3.08g only. The battery slot is closer to the center of gravity for smoother flying experience, and you will land on the motor screws instead of the battery.
The package comes with 1*BT2.0 300mAh 1S lipo and 1*BT2.0-PH2.0 adapter cable. The adapter cable is convenient to charge BT2.0 battery with your stock PH2.0 charger. Meanwhile, we also release all-in-one BT2.0 Battery Tester & charger for your need.
Specifications
Item: Meteor65 1S Brushless Whoop
Weight: 22.84g (without battery)
FC&ESC: F4 1S Brushless Flight Controller V2.1
Frame: Meteor65 65mm 1S Brushless Frame
Motors: 0802 22000KV Motors
Props: 31mm 3-blade props (1.0mm Shaft)
VTX&Camera: M01 AIO Camera VTX
Receiver Option: Frsky XM+ / DSMX / Futaba S-FHSS
Battery: BT2.0 300mah 1S Battery
Flight time: 2.5mins in a smooth indoor flight, 2 mins in full throttle indoor flight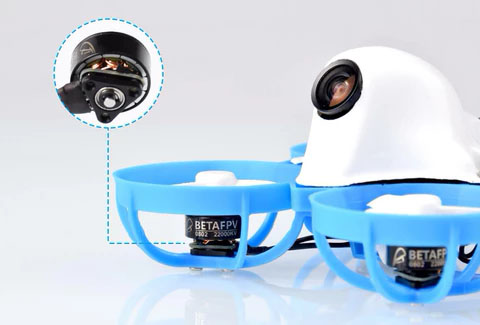 BT2.0 Connector
BETAFPV exclusive designed BT2.0 connector has broken through the bottle-neck of PH2.0 connector. BT2.0 connector decreased internal resistance of connector effectively to allow more current that is transferred, which means it supports 9A continuous current(15A burst) offers stronger power and longer flight time on 1S brushless drones while PH2.0 just supports 4.5A You can enjoy more flight time without disturb of low voltage warning through solving the problem of voltage sag.

There is a graph of comparison between BT2.0 connector and PH2.0 connector (solid pins version) in BETAFPV 1S 300mAh battery. The discharge current is 9A in this testing. You could see that it has double time ( about 2minutes) with BT2.0 connector.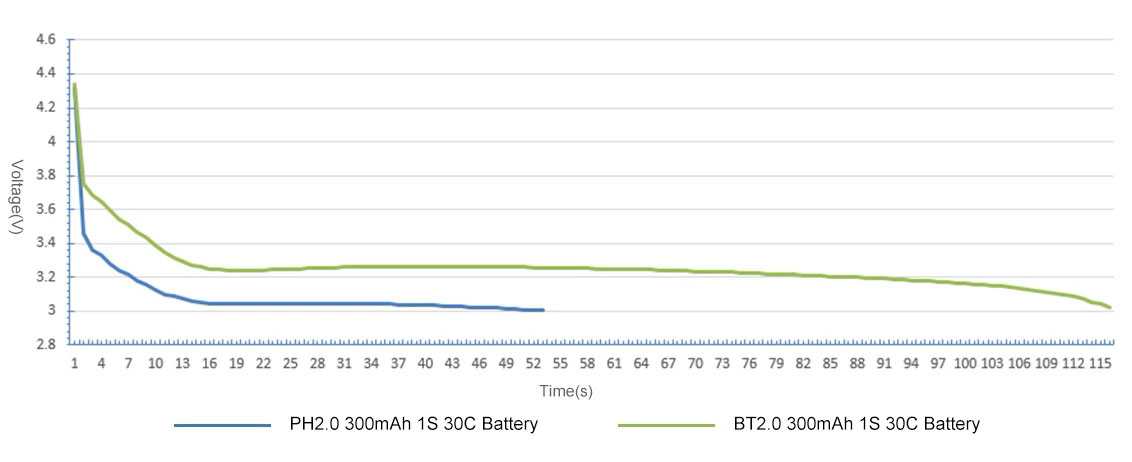 We know some pilots might have a question about how to deal with the old PH2.0 1S battery. So we provide some accessories like BT2.0 Power whoop connectors for those people who wanna convert the PH2.0 connector to BT2.0 connector. Much more choices and more convenient in installation.
F4 1S Brushless AIO FC V2.1
The lightest F4 1S brushless FC in the current market. With a slim and sleek design, 2.69g in weight and better performance on function for maximum weight savings, power, and responsiveness.
CPU: STM32F411CEU6 ( 100MHZ )
Six-Axis: MPU-6000 triaxial accelerometer / triaxial gyroscope (SPI connection)
Firmware version: Betaflight MATEKF411RX (MK41R)
OSD: Built-in BetaFlight OSD (STM32 controls OSD chip over SPI in DMA mode)
Current: 5A continuous and peak 6A (3 seconds)
Support BLHeliSuite programmable
Factory firmware: O_L_5_REV16_6.HEX
Motors
Our 0802 22000KV motors use ball bearing instead of brass bushings, and a PCB connector. This means our motors are more durable and easier to repair if damaged.
M01 AIO Camera and 5.8G VTX
The unit is ultra-lightweight only 3g, perfect for Meteor65. It comes with a super Mini 5.8GHz FPV Transmitter + 600TVL FPV Camera + RG178 Antenna, features 6 bands and 48 channels on the 5.8GHz band with Raceband.
Item: M01 Camera AIO VTX
TVL: 600TVL
FOV: H:120°/V:100°
Video System: NTSC
Horizontal Resolution: 640X480 1/4"
Output power: 25mW
Supply Voltage: 5V
Size: 18*14*4.5mm(VTX)
Weight: 3g
Antenna: RG178 Antenna
Frequency: 5.8GHz 6 bands 48 channels, with Raceband: 5362~5945MHz
Meteor65 1S Brushless Frame
The lightest 65mm frame-  Meteor65 frame is reduced 0.75g to 3.14g only. The battery slot is closer to the center of gravity for smoother flying experience, and you will land on the motor screws instead of the battery. We provide more options on colorful frames as Beta-blue, mint-green, sakura-pink, mango-orange, etc.
Includes
1 * Meteor65 SE Whoop Quadcopter (1S)
2 * BT2.0 300mAh 1S Battery(Special Edition)
1 * Customized Carry Case
1 * Black Friday Customized 200mm Landing Pad
1 * BT2.0 Battery Charger and Voltage Tester
1 * Screwdriver
1 * Spare camera mount with 25° tilt

1 * Spare Black31mm 3-blade props (2CW+2CCW)

FrSky Receiver protocol